The Strautmann range of Forage Wagons are available in 23m to 50m cubic metres capacities with 32 - 50 knives.
Market leading Forage Wagon design for large scale farm and contracting use. All Strautmann forage wagons utilise the CFS system which means precise and consistent forage chop whilst keeping the HP requirement down to a minimum to ensure cost effectiveness and excellent quality silage.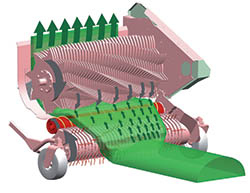 The newly developed pick-up and the "CFS drum" disperse the swathe (spreading-out effect) and feed it over its entire width to the rotor and the cutting unit. The rotor which is mounted by 100 mm higher conveys the pre-wilted green fodder through the correspondingly shortened conveyor duct into the cargo space thus saving energy and reducing the power requirement by approx. 10%.